Outdoor hikes are no longer prohibited for certain people with disabilities.
This is partly thanks to Omer Zur.
Zur's father has been using a wheelchair since sustaining serious injuries during his Israeli military service. But his son felt they shouldn't deprive him of a post-army hike – even though it was decades later.
"Thirty-five years after his injury, I decided I was going to fill that gap with a post-army trip that he never had," Zur said.
"I did a few things before. First, I checked if he was interested, and he said yes. Second, I thought about how we're going to do it. After checking all kinds of platforms and chairs that were on the market, we found that none of them suited our needs, so we decided to develop the Trekker," he said.
When designing this wheelchair for off-road use, they considered the rugged terrain and the user experience of both the rider and the companion who would push or pull the Trekker. The finished product is "very rideable and creates the best hiking experience for everyone involved," Zur said.
Eventually, the duo decided to make the trip a social event.
"We invited 34 friends to come hike with us – my father's childhood friends, his current friends and also friends of mine. We hiked the Taurus Mountains in Turkey for a month," said Zur.
The hike they chose was difficult. They agreed in advance to sleep in tents and sleeping bags and to cook over fires.
"We weren't going to spare each other. And during this trek, I saw and understood certain things that led me to found Paratrek", says Zur.
Inclusive Adventures
Paratrek was established in 2014 and operates under the slogan "Where there is a wheel, there is a way".
Using the Trekker, Paratrek specializes in facilitating treks for people with limited mobility and creating inclusive and engaging outdoor activities for people with and without disabilities.
Paratrek has taken groups around the world, including to Australia, Jordan, France and the United States – even to Mount Kilimanjaro in Tanzania, in cooperation with Friends of Access Israel.
"Together we conquered Kilimanjaro, and together we also started this journey of spreading our methodology and Trekkers in the United States. We hope to continue this great cooperation in the future," Zur said.
This spring, the organization will walk to the ancient Camino de Santiago pilgrimage route in Spain, and immediately after to Sinai.
Paratrek's "wheels"
"The first 'wheel' of what we do is the research and development, manufacturing and marketing of our Trekkers to any type of organization that provides services to people with disabilities, to any park or authority in nature. This is so that more people around the world can fulfill their fundamental right to go into nature and to travel," Zur said.
"The second wheel is the wheel of integration. When people with disabilities are integrated into frames of people without disabilities in their daily lives, and that frame goes on a journey – a school trip, a fun day at work, a hike pre-military school, trade union outing, these disabled people generally stay at home.We are there to integrate them, and allow them to participate fully in these activities, too.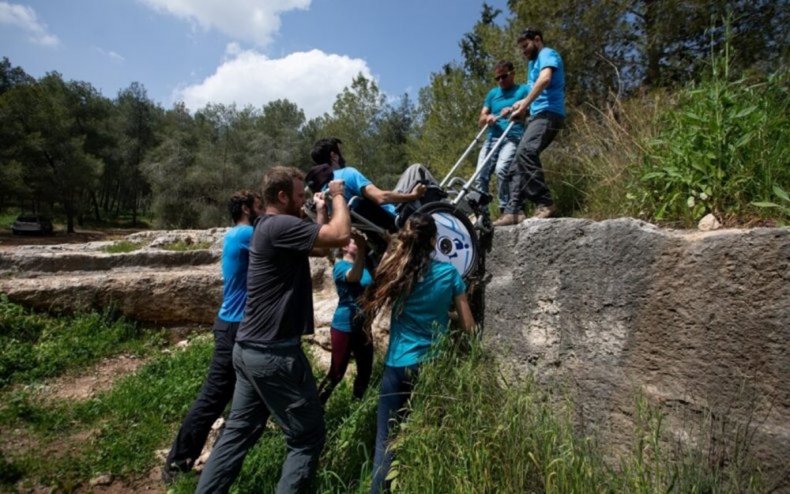 The third wheel is education, including lectures, outdoor activities and informal meetings.
"Here we have two goals. One is to bring people with disabilities closer to people without disabilities," says Zur.
"About 20% of the general population in Israel is made up of people with disabilities, and we don't see them in the public space – the cinema, the supermarket, the restaurant – because we are a non-accessible society. So we try to bring people together and allow relationships to develop.
"The other goal is to help the able-bodied population define their own goals and dreams and identify what prevents them from achieving them, and whether these are objective or subjective factors."
holistic approach
Paratrek, which employs some 25 people, organizes and facilitates trips and activities for schools, workplaces and programs such as Birthright.
"There are a few organizations that help people with disabilities get out into nature, but unlike us, they don't focus on the social dimension and integration," Zur said.
"There are also all kinds of organizations around the world that sell different outdoor platforms and chairs, but the focus is on very specific things that don't create this holistic, optimal experience for attendees."
Paratrek's reception has been overwhelming, he said.
"The responses are amazing and moving. They range from simply delighted, excited and positive responses to people who really tell us how Paratrek's activities and services have changed their lives, made their dreams come true or changed their outlook and outlook. of conscience. It's really very cool. We, too, are also very moved at the end of each activity."
Zur hopes to provide such services to more people or organizations that work with people with disabilities. He also wants to spread the word widely, by marketing the education and integration programs of Trekkers and Paratrek, "and to duplicate our model here elsewhere in the world".
Produced in collaboration with ISRAEL21c.