FRANKLIN COUNTY – Looking for a fun place to hike in or near Franklin County? Here are eight places to explore alone or in company.
St. Albans City Forest
Length: 4.1 miles
Type of trail: Network
Location: 731 Forest Drive,City of St. Albans
Located in St. Albans? Walk these trails that wind through the woods and wind near a beaver pond.
Pets are allowed on a leash and the park is free to enter. There are a variety of loops ranging in difficulty from beginner to advanced.
The forest is managed by the City of St. Albans.
Swanton Recreational Trail
Length: 1 mile
Type of trail: One way
Location: South River Street, Swanton
The Swanton Recreational Trail connects ball fields, businesses and residents to all that Swanton has to offer.
The trail includes a truss bridge that was previously located in West Milton over the Lamoille River before being moved to its current location spanning the Missisquoi River.
The trail is also part of the Lamoille Valley Rail Trail which when completed will cover 93 miles from Swanton to St. Johnsbury.
Stephen J. Young Swamp Trail
Length: 1.4 miles
Type of trail: Loop
Location: 94 Tabor Road, Swanton
Hike through the marshes with this unique trail in Swanton. Listen to the chatter of geese and ducks as they stop en route south this fall.
The trail is preserved by the National Department of Fish and Wildlife and is part of the Missisquoi National Wildlife Reserve.
The trail is closed during deer season, this year from the second Saturday through fourth Sunday in November, and muzzleloader season, this year from December 3-11.
Black Creek and Maquam Creek Nature Trails
Length: 1.5 miles
Type of trail: Network
Location: North River Street, Swanton
These two nature trails cross fields, woods and wetlands. Keep a watchful eye out for birds and mammals large and small hidden behind trees and wildlife.
There is no overnight camping allowed at this daytime facility and pets must be kept on a leash.
The trail runs alongside two streams, and at the end of the trail there is a lookout for viewing wildlife and rustic landscapes.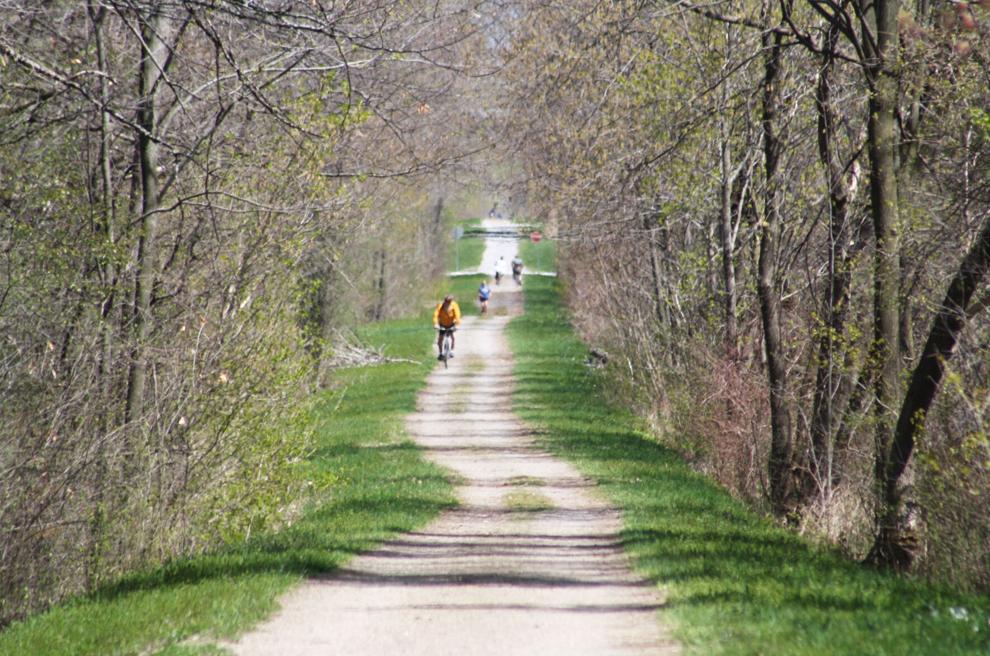 Missisquoi Valley Rail Trail
Length: 26.1 miles
Type of trail: One way
Location: Berkshire, Enosburg, Fairfield, Richford, Sheldon, City of St. Albans, Swanton
This trail stretches through Franklin County and features a variety of terrains. It takes you deep into the farmlands of northwest Vermont.
The trail begins just outside of Richford before gradually heading south through Franklin County to St. Albans. You can expect natural and agricultural beauty throughout the trip.
Although the trail can be walked and cycled, snowmobiles are also permitted.
Round Pond State Park
Length: 1.1km
Type of trail: Network
Location: 27 E. Shore Road, South Hero
This trail includes two prairie loops that are mowed a few times per season as well as a one kilometer wooded hike to a Lake Champlain beach.
The area is open to hunting, so be careful during the fall and spring hunting seasons. The parking lot is not plowed in winter.
100 acre woods
Length: 2 miles
Type of trail: Network
Location: 2739 VT Route 104, Fairfax
100 Acre Woods includes a loop trail called the Logging Loop Trail and a trail that crosses the loop called the Blue Central trail.
The land was bequeathed to the City of Fairfax by the Cross family of St. Albans. The land was overused by RVs and overgrown before being managed more broadly by the city beginning in 2008.
Hard'Ack hiking trails
Length: 3.8 miles
Type of trail: Network
Location: 179 Congress Street, St. Albans
This trail system is conveniently located in the heart of St. Albans. The area is also known as Aldis Hill Park.
There are five trails that make up the network and most are easy except for the intermediate level tower loop.